I recently learned something new. Apparently it's standard procedure to publish a new book on a Tuesday.
Perhaps that's because there's not much else competing for readers' attention on Tuesdays. It's not the start of the week, it's not the end of the week. It's not Hump Day. It' usually not Pay Day and holidays rarely fall on Tuesday. However, no one seems to know definitively why books are published on Tuesdays.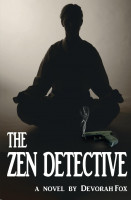 My previous books got launched to coincide with the book signings typically held during the Port Aransas Art Center's First Friday events. But who am I to thumb my nose at tradition? Therefore, the ebook release of The Zen Detective is slated for Jan. 10, 2017, a Tuesday. You'll be able to get a copy of this five-star mystery in formats suitable for Nook, Kobo, Kindle, and other e-readers, as well as in PDF and text formats.
It's available as a print book too, should that be your preference.