This is a Sponsored post written by me on behalf of Scotts Miracle-Gro for SocialSpark. All opinions are 100% mine.
We've had some dicey weather lately but it's still Spring and of course I have gardening fever. Everyone who knows me knows that I have a black thumb. I'd love to have gardens like these but knowing my limitations, I don't challenge myself with anything too ambitious.
Still, I've had pretty good success with herbs like rosemary and basil. And this year for the newest member of the family I'm planting catnip and cat grass.
So I've collected all the necessary tools and gardening supplies: rake, shovel, trowel, wheelbarrow and some starter plants. I don't want to be out there weeding every weekend so another really great tool is mulch.
Mulch like Scotts Florida Select Natural Eucalyptus Mulch prevents weeds naturally. A three-inch layer helps to block their growth and their access to sunlight.
How to Use Mulch
Mulch works most effectively when used and applied properly:
Spread it three inches deep. Keep mulch several inches from tree trunks and house foundations or other wood structures.
Apply it around trees, shrubs, flowers or vegetables after seeds have germinated and plants have developed.
Don't apply it before seeds have germinated or around underdeveloped plants and don't spread it within several inches of house foundations or other wood surfaces.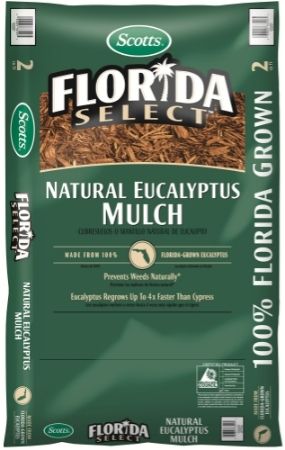 A 2 cu. ft. bag will cover the following:
At a depth of 2 inches, 12 sq. ft of bedding area
At a depth of 3 inches, 8 sq. ft. of bedding area.
At a depth of 4 inches, 6 sq. ft. of bedding.
My Floridian readers will want to know about Florida Select Mulch. Florida Select Mulch is made from 100% Florida-grown Eucalyptus. It being a Florida-grown product, using it helps to support the local economy. It's also:
SUSTAINABLE: Sustainably-harvested and plantation grown Eucalyptus is considered a renewable resource because it re-grows up to 4-times faster than Cypress. sustainable gardening
NATURAL: Made from 100% plantation-grown Eucalyptus trees. Eucalyptus Mulch is guaranteed free from any construction, demolition, pallet, or other waste materials.
Not in Florida? Check out Scotts® Nature Scapes® Scotts Nature Scapes mulch. It comes in 3 different colors: Classic Black, Sierra Red, and Deep Forest Brown. These mulches are natural forest products. They contain no waste wood and come in a variety of textures. Scotts Mulch helps to maintain moisture, prevent weeds and create a groomed landscape all year long. Low maintenance and great results, even for someone with a black thumb like me!