I'm excited to report that the Port Aransas Book Club has chosen to read The Lost King and has invited me to their January 2013 meeting at the Ellis Memorial Library to be pilloried… er, to answer questions and chat.
I so enjoyed the many book chats that I was able to attend in Scottsdale when I lived in Arizona, but I never pictured myself on the other side of the audience.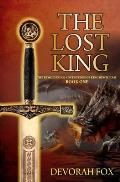 Speaking of the The Lost King, friend Andrea reports that it can be found on Powell's Books, for those who like to shop there.